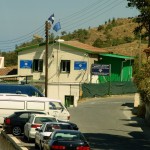 A Police Station has been operating in our community since 1915. At first, it was crewed with four Police officers, whose duty was the policing and safety of the Solea region, starting from Katydata until Spilia, Kannavia, Agia Eirini, Vyzakia and Nikitari. Their patrols were done with horses until 1950 and later on, due to the increase of the Police officers, their transport was done by locomotive vehicles.
After the invasion in 1974, the Police Administration of Morphou was primarily transferred from Lefka to Pedoulas and in 1978 in Evrychou where it is co-housed until today with the Local Police Station.
The territorial jurisdiction of the Police Administration of Morphou covers the wider region from Astromeritis until Kato Pyrgos and six villages of the Western Marathasa of the Lemesos District whereas the territory which is under the responsibility of the Local Police Station covers the villages of Temvria, Evrychou, Korakou, Linou, Flasou, Katydata. Sinaoros, Agios Theodoros and Argolados.
The police, beyond its usual duties, is active and offers social and humanitarian services such as provision of First aids and transfer of patients and wounded, humanitarian and other help towards the public, contribution to the Fire Department in extinguishing fires, intervention to achieve compromise of civil nature for personal disputes, handling of problems of the adolescents, assistance to people who were in danger for various reasons, volunteering blood donation of police officers as well as missing persons' cases.
Sources:
Study of Minas Nicolaou
Evrychou Community Council