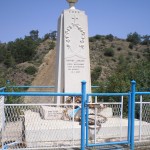 Markos Drakos, member of the National Liberation Organization (EOKA), died fighting in the Sklinitzia area in the village. There is a marble statue and a Greek flag in this location. The construction of the statue was taken on by Evrychou Community Council.
On the monument there is an inscription saying "HE DIED FIGHTING FOR THE FREEDOM OF CYPRUS 18.1.1957".
A brief note on the life of the hero that honored Evrychou with his sacrifice follows.
Markos Drakos was born in 1932 in Lefka. He went to Samouel School. He was one of the first initiated in EOKA, the organization that fought against English domination.
On the 1st of April 1955, namely on the official first day of the fight, Drakos took part in the radio station blow up. What is more, he was in charge of the planning of the attack against the Central Police Station in Nicosia. On the 23rd of September 1955 he managed to escape with fifteen other fighters from the fortress of Kerynia. English troops kept them there.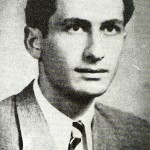 Markos Drakos took part in a series of ambushes against the English and in the historical battle in Soloi, in which he managed to escape despite its injuries.
On the rainy night of the 18th January 1957, Markos Drakos was headed with his co-fighters towards an EOKA den in Evrychou. Near the Sklinitzia area, Drakos and his team were ambushed. While trying to cover his fellow fighters and help them escape, Drakos was shot dead by English soldiers.
The brave fighter, mentions Mr. Georgios Yiaggou Assioti, "watered Cypriot soil with blood". The monument dedicated to the hero is located at the same place.
It is worth mentioning that to honor Markos Drakos's heroic sacrifice, a soldier camp and a main road in the village were given his name
Sources:
Georgiou Yiaggou Assioti, The E.O.K.A. fight 1955-1959, Nicosia 1997
Kinanis Theocharis, Evrychou, Nicosia 2005