The tragic summer of 1974 forced the district eparchies to flee. Therefore, they temporarily transferred to the free part of the island. The eparchy of Morphou is today located in Evrychou, prolonging its important mission and its valuable oblation.
Kinanis mentions that the blow of the Turkish invasion on Morphou, is depicted in the verse "Morphou was hit like everyone else".
After the tragic events, eparch Chrysanthos and his retinue sought for a shelter in the Kykkos Monastery, where they stayed for three months.
At the beginning of December of the same year, the eparch and his retinue were transferred to Evrychou. The inhabitants welcomed them and they initially located the eparchy in small hall of the primary school.
This small hall was later on improved thanks to the financial help that came from the archbishop's palace. It is known as the "Bishopric of the Holy Eparchy of Morphou" since. The church is since 1974 the church of the Morphou eparchy. It is worth mentioning Kinanis's argument, that there used to be another church at the same point, also dedicated to Agios Georgios (Saint George).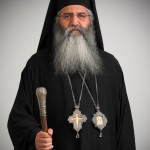 The eparchy of Morphou continued to play an important role on the spiritual life of the island despite its displacement. It is worth mentioning that the eparchy has offered a lot to the village of Evrychou and the district in general. This is shown through the establishment of charity centers and the formation of religious and cultural organizations.
The love and provision of the Eparchy are also verified through its contribution for the construction of churches in the village. On the 19th of July 1984 the Eparch of Morphou, Chrysanthos, helped lay the foundation stone at the church of Prophet Elias. The inauguration of the church was held by Eparch Neophytos in July 2003. The church of Saint Nektarios was built in 1985, when Chrysanthos was the eparch.  The multi-dynamic centre of the village of Solea is built next to the church.
What is more, on the 30th of January 2001, Eparch Neophytos helped lay the foundation stone for the construction of a church dedicated to Saint Athanassia and Saint Andronicos in the Gymnasium-Lyceum property. The church's first sermon took place on the 9th of October 2002.
An important project of the eparchy is the centre of Solea village. Its construction was initiated when Chrysanthos was eparch and was completed when Neophytos became the eparch. It first operated on the 1st of May 2001 and aimed to offer shelter and care for old people from the village and all the eparchy. What is more, the centre helps and provides food to sensitive groups of the population at home.
The eparchy of Morphou has undoubtedly reinforced and upgraded the spiritual life of Evrychou and its surrounding areas. Its contribution is indisputable. However, the wish of everyone is the return of the Eparchy back to its roots.
Sources:
Kinanis Theocharis, Evrychou, Nicosia 2005
"Church" from the encyclopedia "I never forget" vol.3