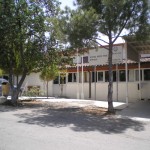 Situated near the Regional Primary School of Evrychou and by the main road which leads from Lefkosia to Troodos is the A.Y.K (Agricultural Health Centre) of Evrychou, which was built in 1962-63. The existing building accommodated the Virgins' School in 1908, the first public school for girl students.
In the post-colonial period, after 1960, conditions were constantly improving as far as health was concerned. Despite this fact, the operation of a hospital, which was going to cover the needs of the residents of the Solea region, was an imperative need. The Community of Evrychou constituted the most ideal location for the establishment and operation of the Hospital building since it was situated in the centre of the Solea valley.
The A.Y.K. operated on a 24 hour basis and is today manned by the following personnel:
Three pathologist doctors
Two cleaners
A dentist and an assistant
Nine nurses and one sister
An ambulance driver
Two pharmacists
A penman
A paediatrician
A health visitor
A health inspector
A maintenance worker
It is worth mentioning that in the past, the patients could spend the night in the Hospital whereas an obstetrics unit was also in operation. As time went by, the hospital was downgraded into a Health Centre. It would have been appropriate for the Governments to try and upgrade the Centre, to support it with more doctors of various specializations and to supply it with more modern equipment, since the A.Y.K is visited by approximately 3000 patients per year. What is positive about this is that all these patients do not have to go to the Hospital of Kyperounta or to the Lefkosia General Hospital, this way saving valuable time and hassle. Moreover, the countryside will be kept alive since the covering of the residents' needs, not only of the community but of the residents' of the wider region as well, will keep people from abandoning their villages to move and settle in the cities.
Sources:
Study of Minas Nicolaou
Evrychou Community Council