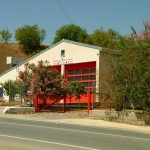 The Fire Station is situated west of the village of Evrychou, by the main road which leads from Lefkosia to Troodos. The Station operated after 1974, originally in roughly made premises next to the Morphou Police Administration in Evrychou. Today, it is roofed in a building which was constructed by the Cyprus Fire Department. It is manned with one permanent fireman and eight casual firemen who live and work in the community. In the case of an emergency, they are immediately notified by the Station's fireman or the Police to face household, forest and agricultural fires as well as to free people involved in car accidents, to pump rain water from floods and to offer other special services.
It covers the areas of Solea, Marathasa and some of the villages of Pitsilia. In the case of an emergency such as in big forest fires, the station assists the Lemesos District (Troodos forest area) and the Agricultural Fire Station of Peristerona.
The Fire Station has three vehicles: A road tanker which is manned with three persons, a rapid intervention car manned with two persons and a vehicle bearing pumps which is manned with four or five persons.
One such service, which constitutes the guardian of the ecological lungs and which is headquartered in the Solea valley, creates a sense of security. Their struggle to keep planted areas alive and the fact that they defend the environment and property of the residents of the wider region with their impeachable coordination creates a sense of respect and admiration towards them.
Sources:
Study of Minas Nicolaou
Evrychou Community Council