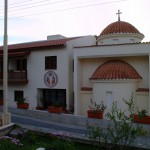 "Agios Nektarios"
It is the country church that was constructed in 1985, close to the Episcopate and the "Solea" multi-purpose centre for the elderly.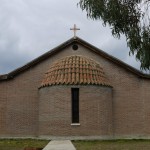 "Prophetes Elias" (Prophet Elias)
The small church built upon the height that bears the same name. Built in 1984 after an initiative by the Reverend Metropolitan Bishop of Morfou, Mr Chrysanthos, who also deposited the foundation stone. It was inaugurated June 2003, by the Metropolitan Bishop of Morfou, Neofytos.
"Agia Kara"
Tradition mentions of a church of St Kara in the Kares venue south-west of the village. It also reports that several findings were discovered, among them golden objects as well as an icon of St. Kara. Today there are not even traces so as to locate the foundations of this church.
"Agios Andronicos"
The existence of such a church is nowhere mentioned. Several caves were opened up somewhere in the "Agios Andronicos" venue and a small stone-made aqueduct with a pipe that carried water existed close to the turning of the road. This aqueduct with the water is remembered by many but none spoke of a church.
"Agios Nicolaos"
It is certain that there was no church of St. Nicolas, however about 15 years ago a small icon of the Saint was discovered in the midst of some stones in the "Loukkoi" (pits) venue. Similar stones cannot be found in that area. This icon was transferred by Theokletos Evstathiades and is kept in a small, stone-made crypt, close to the rural road and a bit further up the place it was discovered.
Chapel of Agios Andronikos and Agia Athanasia
The picturesque chapel of Agios Andronikos and Athanasias owes its existence to an initiative taken by the teachers and stuff of the Gymnasium and Lyceum of Solea, the Inspectorate and the Parents' Association. After steps were taken towards the Ministry of Education and Culture, part of the fenced area of the forest was conferred, this way making the construction of the chapel possible. The chapel was constructed so that the students could go to church and so that the two Saints could be designated as protectors of the school.
On January 30th 2001, the day when the school honours the memory of the Three Hierarchs, the Metropolitan Bishop of Morphou Mr Neophytos placed the foundation stone for the construction of the chapel.
Sources:
Study of Minas Nicolaou
Evrychou Community Council